HEL Brake Lines Assembly and Installation
#maintenance
#repair
#tuning
#info
#brakes
1 year ago
Yamaha, like all Japanese motorcycle manufacturers, still uses rubber brake hoses on all their models except the sport off-road ones. It's probably because of the manufacturers passiveness and the price.
In civilian use, rubber hoses have no drawbacks other than service life. In practice, no one changes the hoses every 4 years with no problems even though the manufacturer recommends to do so.
Steel braded brake lines have been used on European and American motorcycles for a long time. Their main advantage is the Teflon core which is covered with a stainless net, preventing the hose from expanding under pressure.
Steel braded brake lines don't expand and their deformation doesn't require any energy waste. That's why the speed of force transfer to the pads increases, as well as the pressure on the pads. As a result, it significantly reduces the braking distance.
Steel braded brake lines have a much longer service life. HEL, for instance, gives a lifetime warranty on their products.
Steel braded brake lines are used in racing because they have higher heat transfer, so the brake system is more resistant to overheating.
Steel braded brake lines are much stronger than rubber ones. In civilian use, this does not matter, but in sports it protects the braking system during falls.
On motorcycles with ABS, Steel braded brake lines are often more effective because of the longer total length of the lines. The longer rubber hoses are, the more time and energy it takes to expand them.
Some models have steel sections that do not expand under pressure and are used to create complex paths during installation and fixation.
ABS modules contain brake fluid, which should be changed when bleeding or replacing hoses. It's because glycol fluids absorb moisture, which will rust the steel parts inside the block (if there are any). To run the new fluid through the module, you should programmatically open all the valves (initially, the block is isolated from the brake system). It can also be done on the go if you turn on the ABS system by braking on bad surface.
Lines assemly and installation
The easiest way to assemble brake lines is according to original ones. That's how we did it in the video, while taking into account the new low handlebar. If there are no samples, or the handlebar configuration changes a lot, you have to make brake lines in place - this is an additional installation to determine the exact length, which makes the process more complicated.
It is important to determine the length taking into account the suspensions travel and the handlebar turn. It's better to elevate both wheels and make the lines end-to-end.
When assembling the lines, it is important to consider the thickness of the sleeves and fittings because they may not fit on the ABS module or master cylinder.
The rotation angle of the fittings relative to each other at the line's ends is very important. The torsion stress after installation depends on this.
HEL brake lines advantages
HEL provides the most compact and reliable solution of fitting-to-hose connection: crimping in a radial press. With such assembly, you can get the thinnest sleeves. Threaded analogs (such as Goodridge and Venhill) have very thick fitting and hose connections that may not fit on an ABS module, front master cylinder or handbrake.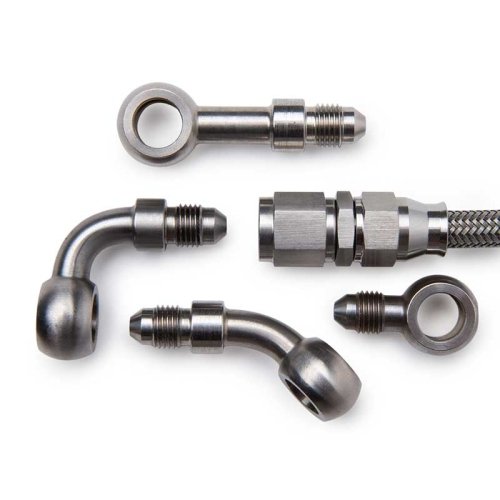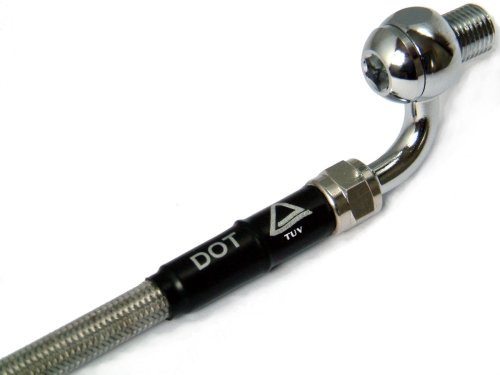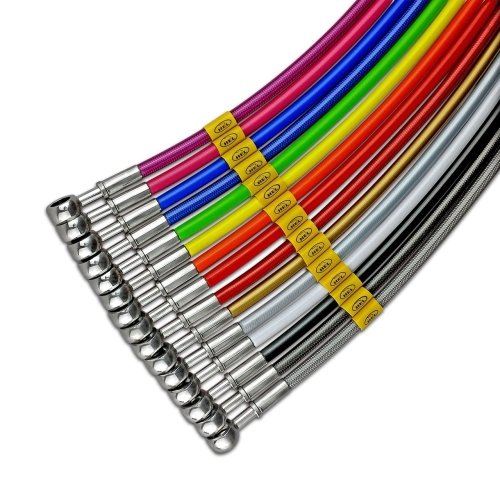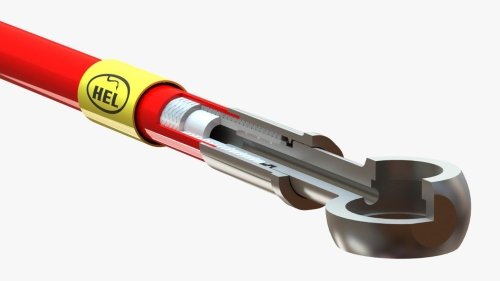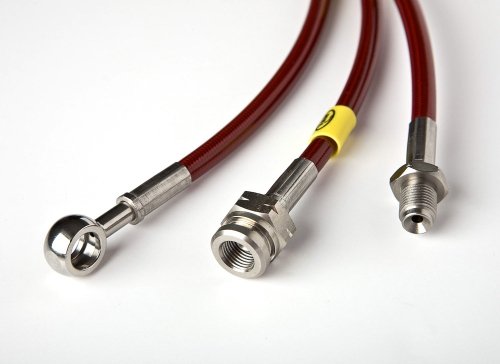 Thanks to the reliable triple sealing of the fitting in a Teflon core, the fitting can be rotated after crimping. This relieves the torsion stress if necessary. In our experience, such stress can occur even when assembling according to original samples, let alone custom ones. This is because rubber hoses have adaptive shape, so it is impossible to accurately maintain the fittings position relative to each other and you should adjust them.
Also, the ability to rotate the fitting allows you to position the hose more accurately, for example, for precise positioning near the wheels .
An important HEL advantage is stainless steel fittings that can be bent to any angle. Some motorcycles use non-standard fitting angles that can only be copied with HEL fittings. This allows you to assemble a circuit for any motorcycle with a relatively small number of blanks.
Flexibility and resistance to aggressive environment is another advantage of HEL steel braded brake lines. The hoses can be bent to a small radius when laying and fixing. Durable nylon coating isn't destroyed under the reagents action or at extremely low temperatures, which has been tested on cars.
We are official HEL dealers. In our store you can buy ready-made standard kits for a wide range of motorcycles, as well as make custom circuits according to samples or on site.