HD Softail Fatboy Suspensions
#repair
#tuning
#harley
#suspension
1 year ago
Softail models up to 2018 are Harley-Davidson's most stylish bikes. They use unique solutions that are also stylish and look beautiful. To create a nice bicycle-like minimalist swingarm, the motorcycle was equipped with shock absorbers which are impossible to see. They were located under the engine that works in tension. To make the light-looking chrome top triple clamp, we had to use a unique fork mount with socket cap screws.
Sadly, beauty is pain, so there's a sacrifice here which is the complexity and extra work involved in suspension maintaining. To remove the shock absorbers, you need a special narrow bench and short wrenches. To remove the fork, you have to move the tank, remove the headlight and front fender. Also, not all shock absorber manufacturers make components for Softail, so the choice is limited.
We were contacted by a Fatboy owner who wanted the suspension to perform better on bad roads and in city traffic. For the upgrade, we chose Progressive Suspension 422 for the back and Legend Axeo for the front:
We liked the Progressive Suspension 422 because they have a mono tube design (the oil doesn't foam under load) and are quite cheap. The preload adjustment and hydraulic adjustment aren't quite convenient. Luckily, in our case it's not a drawback, since the owner rides alone.
For those who often ride with a passenger, it makes sense to consider the model 422 with remote preload adjustment or LEGEND shock absorbers, in which the preload is adjustable without a special wrench. When riding with a passenger, it's necessary to increase the preload to maintain the standard sag and, accordingly, the shock absorber travel.
The rear shock absorbers installing and adjusting is tricky because they are under the engine and are difficult to access. It's not always easy to tighten the nuts on a lift, let alone on the ground.
We picked Legend AXEO cartridges for city riding, when you have to brake often (including rapid braking), ride on potholes and joints, keep a stable grip on wet or dirty road surfaces and at the same time maintain a high level of comfort.
The AXEO model is best suited for these tasks, because it's equipped with a mono tube damper with an efficient valve in the piston, which has different resistance at different compression speeds.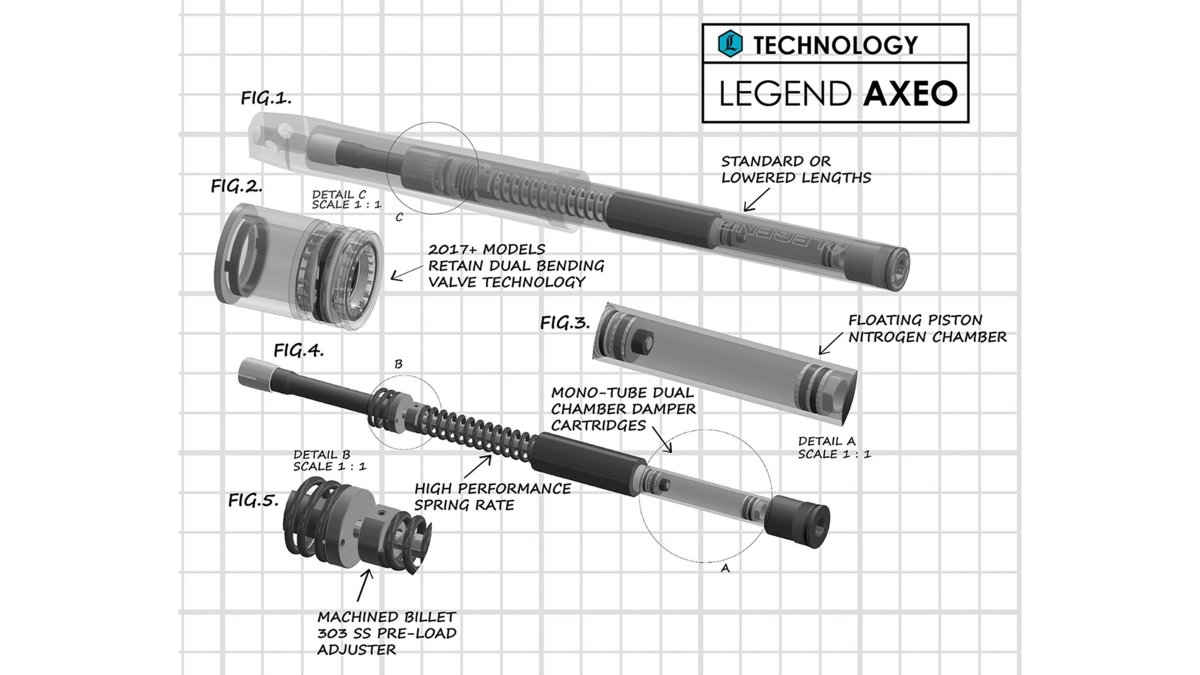 Under load, these cartridges work well (do not get filled with air). During braking (slow compression) they are hard to be able to push the wheel and increase the grip. And when hitting a bump (fast compression) they are soft for a comfortable ride on such surfaces.
In our store you can get any help and purchase any parts for Harley-Davidson from the leading world brands. We work with Legend, Bitubo, Ohlins, Progressive Suspensions, RaceTech, Wilbers, Russ Wernimont Designs, Hyperpro, Drag Specialties and Thundermax.