Bitubo Fork Cartridges Harley-Davidson Dyna
#maintenance
#tuning
#harley
#suspension
1 month ago
Bitubo is one of the leading motorcycle suspension manufacturers. This Italian company has been producing suspensions since 1963, and has registered many patents for innovative technologies that are running at the highest level in motorcycle racing.
Bitubo products have proven to be the best in terms of value for money for motorcycles, including the Harley-Davidson.
In our magazine, you can find an article about Bitubo WME/WMB shocks. There is nothing unique about them, except that with the best technology (monotube, valve with a stack of washers, high quality materials, rigid construction, low friction coatings), they are cheaper than their alternatives.
Fork cartridges are much more interesting, because they feature monotube dampers and rebound/compression adjustments. These are the only Harley-Davidson cartridges with sealed dampers under pressure and all adjustments.​
For example, Legend manufacturer also uses sealed monotube dampers but without adjustments, because the damper is on top of the cartridge, and there is a chamber with compressed nitrogen in the upper cap. Even the spring preload is adjusted during installation.
Ohlins has preload, rebound and compression adjustments. The spring is sold separately and selected individually, but there is an open damper that stops working under load and on bad roads, when the oil in the damper foams.
Progressive Suspension offers a monotube damper, but in one leg and without adjustments. In the second leg, the spring preload can be adjusted with a screw in the plug.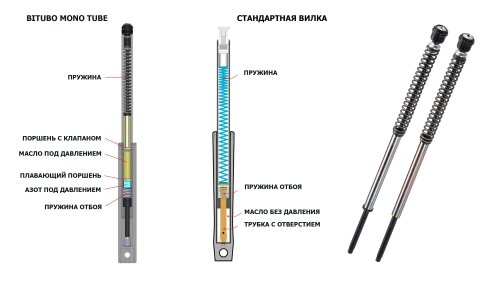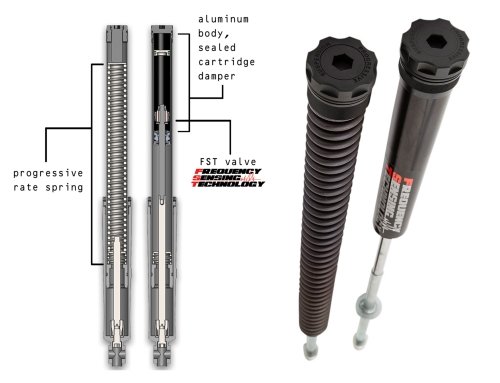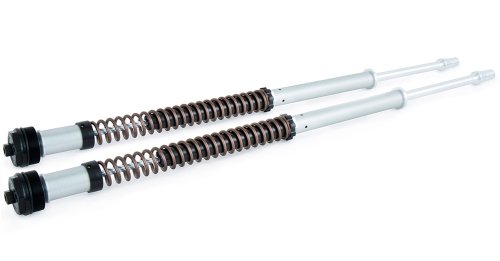 Bitubo cartridges are the best, but they are cheaper than others, how so?
The main reason is that Bitubo cartridges (like Ohlins) are assembled from standard components. So the damper, piston, rod and mounting diameter is the same for all fork models. So, you are not getting the most efficient suspension for installing on your motorcycle.
Legend for different forks uses not only different dampers, but even different designs. For example, thin 39mm forks use a throw-shaft design that increases the stiffness of the leg and prolongs the life of the seals.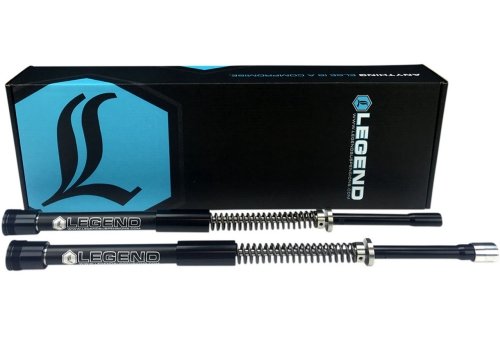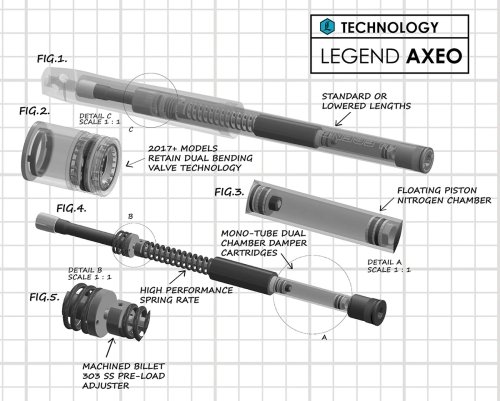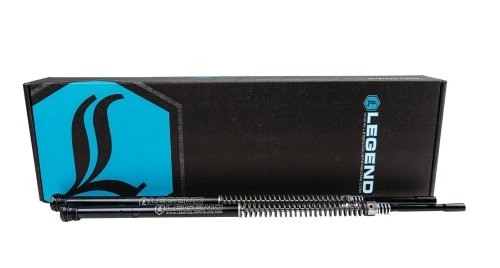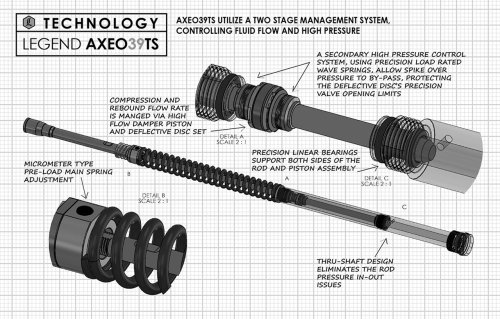 Not the most effective does not mean that it is ineffective. Bitubo suspensions are the most popular because they work great, fit the needs of most riders and are so much better than the OEM ones.
Is there a difference with Legend?
There is, but with a careful civilian riding, it is small. Legend cartridges are more stable (there is practically no need to steer when braking and accelerating; no need to keep the handlebar hard, so you can easily ride with one hand on the handlebar), they dampen vibrations from poor roads better, are more efficient during extreme driving (keep wheels traction better, less free play).
The Legend ones last longer because there is an oil lock when the fork is fully compressed from a hard bump. A damper with a larger diameter and volume heats up less, the oil retains its properties longer. The load on the seals and piston is less, because the design is more rigid due to more durable and massive elements.
The disadvantages of Bitubo also include the fact that Europeans do not well understand the Harley-Davidson model line. They produce suspensions for a huge number of brands and models of motorcycles of all classes, scooters and ATVs; and Harley-Davidson motorcycles are just a small segment. For example, in the video, we noticed that the same cartridges are used on models with different fork lengths. I even had to contact Bitubo customer service to clear it up.
The same goes for shocks. For example, Italian company sells the same model for old and new FLH models with different frames, as well as for sportsters which have pretty different weight. They do not distinguish the Limited FLH models with a heavy touring pack.
However, the Bitubo suspensions are the ones we sell the most and have received positive reviews. If the components are selected correctly and tuned, the difference with the original ones is huge, but with competitors it is little or none at all: Ohlins works even worse on bad roads, for example.
You can get advice, purchase and install components of leading motorcycle brands in our motorcycle store.