Stunters Battle 2017
#stunt riding
#stunt competitions
5 years ago
Stunters Battle is a large-scale competition that took place in Olsztyn and got together a very strong team of participants from all over Europe. The organizers agreed with the shopping center to hold the event on the roof - so the location could not be better. The tournament lasted for three days: training, qualification and the final round.
The regulation at the Stunters Battle was quite interesting: after the qualification were the quarterfinals (8 of 16), the semi-finals (4 of 8) and the final (3 of 4). There were 3 minutes of freestyle in the final, after which the riders were given two attempts to perform the best trick they got.
The best were traditionally Marcin Glowacki, Mike Jensen, Pawel Karbownik, Rafal Kanik, Lukasz Belz and Martin Kratky. It was they who were fighting for getting on the podium. Prior to the qualification, Karbownik dropped out due to the broken arm after the collision with Marcin
Belz dropped out of the contest, as he had his motorcycle broken before the final race. He still continued with someone else's, but that greatly leveled down his freestyle performance. Martin Kratky let go the motorcycle in the final - an unforgettable error.
As the result, there were only three best ones left. There was a serious fight for the first place. Mike and Marcin did well, not without some mistakes though, so it was not at all easy for the judges to make the final decision. Glowacki won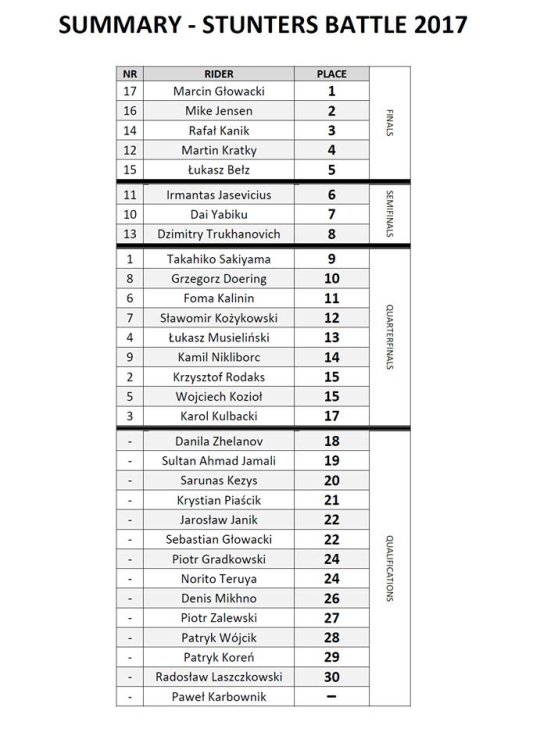 The tournament is best remembered for a tough stoppie cartwheel of Dimitry Trukhanovich from Belarus, who did very well in the quarterfinals, but had to quit the competition prematurely. He didn't get any serious injuries – the equipment helped to some extent. Everyone was also surprised by an unknown young rider Grzegorz Doering from Poland, who at the debut tournament performed an excellent freestyle on the wheel with jumps, a highchair eight, a shuffle 360 and a confident drift. Seems like a new Polish top rider is coming.
After the finals, there was a funny contest for the craziest trick. The winner was Norito from Japan, who made a power spin. Wojciech was also remembered for his variations of stoppie kiss
In this video the best tricks from all rides are combined.
Highlights of whole event are here, as usual.
The tournament worked out excellent. If there is a chance, we will go again next year and you should all too!
Check the tournament page on FB: https://www.facebook.com/stuntersbattle/