Cafe racer SX Racer is ready!!!
#review
#sxracer
#lsl
#project bikes
#customization
#caferacer
5 years ago
We have completed the SX-Racer project on the Truimph Bonneville base. The motorcycle turned out better than the factory one - this is the main task that we set out to achieve during the design. In our opinion, the construction of such a custom is justified only if it turns out to significantly improve the original. There is no problem to build an unusual or strange model, however there is a problem to build a working, functional motorcycle in a consistent style. Motorcycle aesthetics are not a matter of taste and design; motorcycle aesthetics are a matter of manufacturability and functionality. A non-working or not well adapted motorcycle is ugly, no matter how much money is invested in it and whatever parts are used, unless it is built in the style of "rural chic". There can be no accessories on a motorcycle simply for beauty. Any detail or modification must have a functional or technological aspect. That is what distinguishes a quality project! All that does not improve the project in comparison with the original - makes it worse!
We built a Café racer based on the Triumph Bonneville T100: a sporty (non-racing) city bike, for use in metro areas, high-speeds, and in suburbs. The factory equivalent is the Triumph Thruxton. The frame, tank and engine on the entire family of British classics are the same, and we replaced the rest, so the donor model does not really matter.
Below is more detailed information about each modification of our project, and about successful and unsuccessful decisions:
On the selection and installation of suspensions there are separate videos and articles. To start, we added a new fork and shock absorbers. As a result, we saw:
Better braking, because the fork works reliably in compression and rebound, does not swing, and keeps the wheel on the road in any braking mode.
Better tilt stability when turning for the same reason. The new suspensions allow greater acceleration and deceleration, without losing the wheels as on a standard motorcycle.
The ability to adjust, including when operating with a passenger.
Faster response to counter-control and, accordingly, better maneuvering due to reduced fork offset.
We collected all the optics from scratch. New components have turned out more lighter weight due to the materials and compact form. Led turn signals and stop signal are more reliable, and additionally have better shine.
The front wheel had to be made from scratch in order to install the brake system with two discs on a light aluminum rim under a wide sports tire. The rear is assembled on a standard hub and also has an aluminum rim under wide tires. The standard steel sprocket was replaced by an own-made aluminum sprocket, which is a half kilo lighter than the original one.
Wide tires allow you to tilt the bike more confidently and more deeply in corners due to a larger contact patch. This also allows for better braking for the same reason.
The 17-inch front wheel allows for quick maneuverability and less effort during counter steering. Stability of a motorcycle on a straight with such a wheel becomes worse, but for a sports city bike this is ideal.
The front wheel turned out to be lighter by 1.3 kg, the rear wheel - by 2.2 kg. Reducing weight not only reduces the spring mass, but also reduces the transmission loss on the rear wheel!
We built the front brakes from scratch on the Speigler German cylinders, two ABM floating brake rotors and steel brake hoses Hel. In comparison with the standard front brakes, the new system is completely different and is designed for prolonged, intense braking of the motorcycle. All components are of the highest quality and perfectly fit in style. The implementation of such a system is possible due to the wide front wheel (more contact patch) and reduced fork offset (better loading the wheel when braking).
We replaced the silencers with lighter stainless steel REMUS, which is very practical because over time, chips will appear on the chrome finish.
The sporty nature of the bike requires an appropriate fit. We shifted the driver and passenger pegs back, and the steering was replaced with high clips-ons.
New items and devices are much lighter and more compact than standard ones.
Rearsets and clip-ons are demountable, brake and clutch levers have a folding mechanism and interchangeable ends - which makes it easier and cheaper to repair a motorcycle in case of crash.
The handlebar is lightweight and of high quality: all components are perfectly matched in style and compatibility. Looking at the handlebar creates the feeling that everything is factory, but it is not.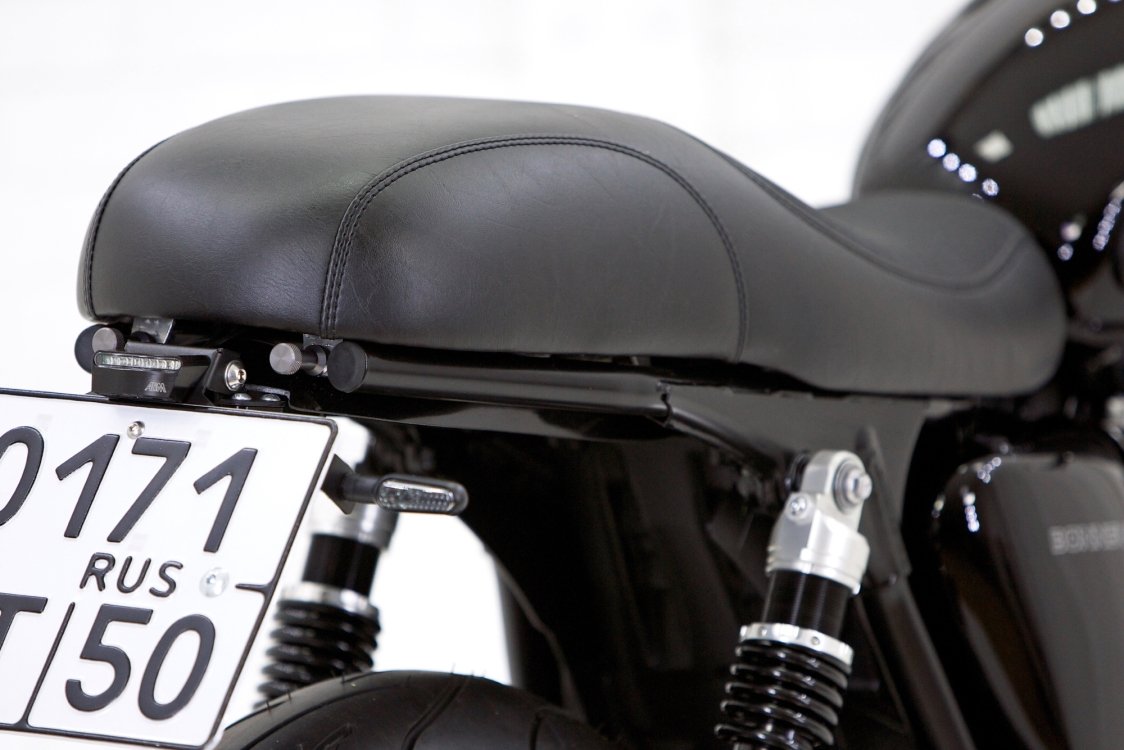 The classic Cafe racer seat had to be abandoned, because there is a desire to ride with a passenger. We chose the comfortable, easy-fit LSL Clubman seat.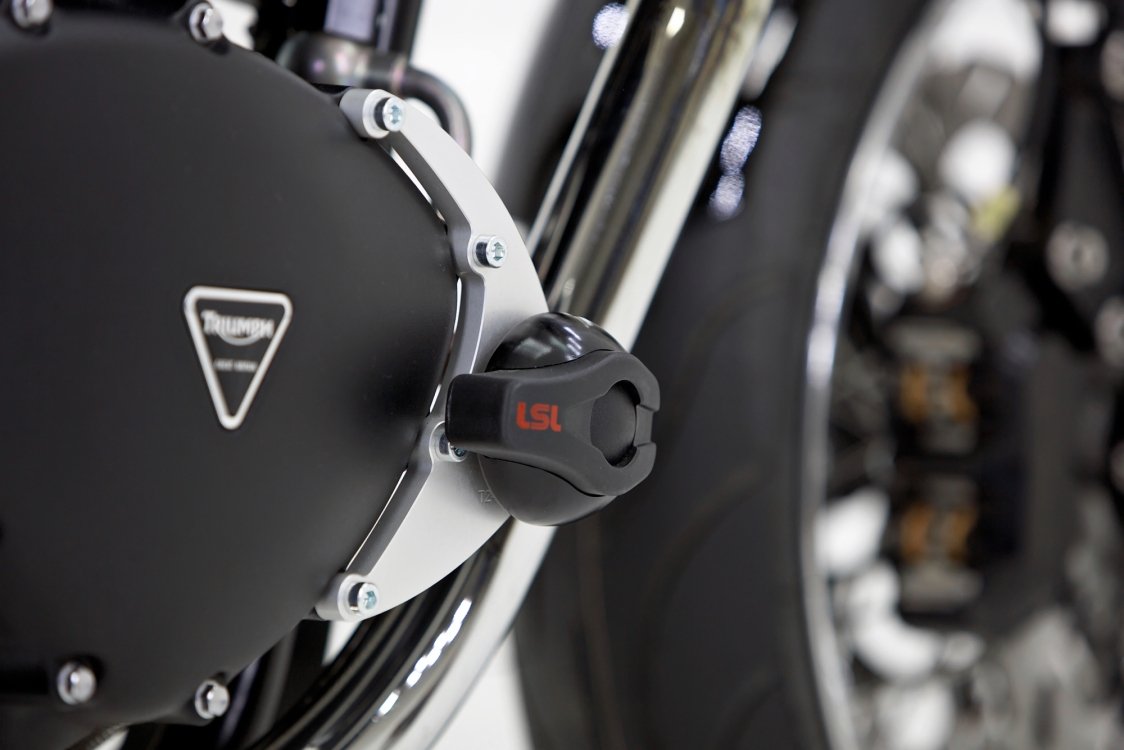 Any protection on a Cafe racer is an extra and not necessary detail from the design point of view. We added LSL ceash pads, because we have plans to practice on the track and playground. An aluminum sheet was installed to protect the crankcase, because the front fender is shorter than the original, and we needed to protect the frame and engine cover from chipping. Russian roads are still of different quality, there are areas with small stones.
We did not install a complete exhaust system, because this requires the installation of a fuel controller. According to the power graphs, this adds 2.5 HP - a little, and the placement of all the PVC block is not an easy task. You can increase power by reducing transmission loss by making the rear wheel and a set of sprockets lighter, which we did.
We did not install zero resistance filters, as is done on many projects, because such a modification violates the ventilation of crankcase gases. On racing motorcycles this is justified, because for them it is crucial to maximize the ease of the motorcycle, and the oil changes every race weekend, respectively, the soot does not have time to accumulate in it. For a city motorcycle, this does not make sense and creates additional problems: a couple hundred grams are not critical, and a significant reduction in oil change intervals and filter maintenance complicates operation.
The cost of the project strongly depends on the cost of the donor and the success of the sale of all original parts (the entire steering column assembly with the wheel and hub, shock absorbers, seat, rear fender with optics, footrests, chain cover, tires and rear wheel rim with a spoke). Everything that we put on the motorcycle cost about 10500 EUR.
The cost of maintenance is cheaper than a standard motorcycle, even though we used premium quality items! This is due to the very high prices for genuine parts. For example, in the event of a crash, it is much cheaper to replace individual parts of the LSL, ABM and Spiegler components than to buy a factory part. It would be great to buy from Triumph only a tank, a motor and a frame, and everything else should be built on your own - it turns out better and cheaper!
The project turned out the high level that we could have expected! There are a lot of Cafe racers based on Bonneville that are more expensive, but we didn't find any better. Our bike is high quality, balanced and logical.
We recommend not to bother with a dual-disc brake system, it is better to assemble the brakes on one brake disc with a 6-piston caliper. It is cheaper and easier, because it does not require the assembly of the front wheel from scratch and some unique parts for fitting calipers with discs. It is also better to use semi-floating brake discs, because they are better suited for urban use. This is probably all that can be changed.
Virtually the entire assembly process, we filmed and made detailed articles on each change. We hope it will be useful to anyone who wants to go the way of construction on their own. All the main points were explained, and for details and subtleties you can consult us. The video contains ready-made, well-thought-out solutions, of course, the design and assembly process was much more complicated and ambiguous.